You are looking for a challenging and exciting job with an innovative company? If that's the case, you've come to the right place. Regardless if you are still studying, in training or have already gained some work experience, and whether you wish to work-part time or full-time: We can provide you with the work environment that suits you. For our new multidisciplinary team, team spirit and development are of particular importance.
As a WISP, we have been operating globally for 15 years, and we seek new talents to join our team, so we can grow – and maybe you are exactly who we are looking for. Do you want to join m3connect? Why not have a look at our job postings? And if you feel these might not be your cup of tea, we are always happy for you to just send us your CV and cover letter.
When should I apply?
When applying, make sure that you can fulfil about two thirds of the requirements we have outlined in the job posting. If you are unsure whether you qualify, feel free to call us at +49 241 980 986 62
May I send you a speculative application, too?
If you did not find any job posting that suits you, you are welcome to send us a speculative application.
How should I apply?
We would prefer if you applied online or sent us your documents as PDF's via email.
Why should I apply online?
This way we will be able to process your application faster than if you applied by mail.
Which documents should I include in my application?
Please send us a cover letter, your CV and all certificates and diplomas relevant to your application.
What should I pay particular attention to when applying?
Please ensure your cover letter is short and precise but informative. If you are applying in response to a job ad, please tell us where you read about the job (e.g. our homepage, job portals, Xing, Linkedin, etc.).
Your CV should be chronological, starting with your last job at the very top. Please do not leave any gaps in your CV.
When preparing your online application, you should apply the same level of care and effort as you would if you were applying by mail. Please make sure that the files you send us are not too big. All attachments should be easy to open, so we recommend you use common formats, such as PDF.
Before sending us your application, read it thoroughly one last time for spelling and grammar mistakes.
How often do you update job postings?
We update job ads on an ongoing basis.
Is this position still available?
We take job postings offline as soon as we have found someone suitable.
If my application with m3connect is unsuccessful, does this only apply to the job I applied for?
If your application for one particular job is unsuccessful, this will not affect any other current applications you may have made with us. Only your application for this particular job was unsuccessful.
Can I reconcile work and family life when working with m3connect?
We are a family-friendly business and offer flexible working hours. That is why it is easy to reconcile work and family life working with us. We will find a perfect solution for any situation our staff might be in.
What can m3connect offer me?
• exciting tasks and space to work independently
• a great team and fun at work
• opportunities for personal development
• healthy and steady growth
• an open-minded environment
• flexible working hours
• family-friendly work policies
• policies promoting sports and health
• tailored prevention programmes
• regular office parties
Application
Please send your complete CV, your graduation certificate and where possible employer references via email or via our online application form.
Invitation
We look at every application very closely to see, whether your profile matches one of our vacancies. We will invite you for a personal interview if that is the case.
Recruitment test
You will be participating in a practical recruitment test that will allow us to assess your problem solving abilities. It will also give us some idea about your professional capabilities.
Personal interview
We generally conduct two personal interviews with applicants. The first interview will be with you, personnel management and your future team leader. You will meet a member of your team and our CEO during the second interview.
Contract
Once the contract is signed we bid you welcome to our team! A great time and an innovative cooperation are waiting for us.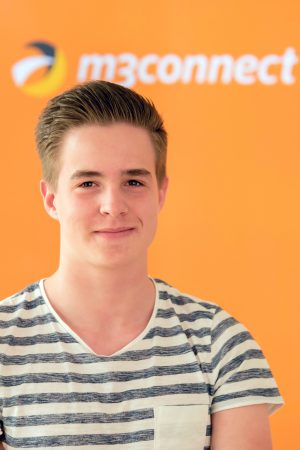 I started training with m3connect as an IT expert specialising in systems integration in September 2015. Everyone at the company gave me a very warm welcome when I joined. I felt very much at home right away. Everyone is very helpful and always happy to answer any question I may have. This openness and helpfulness creates a very pleasant working atmosphere and provides me with a perfect work environment. Due to a flat organisational structures at the company, I am encouraged to contribute my own ideas and even follow up on them.
Jonas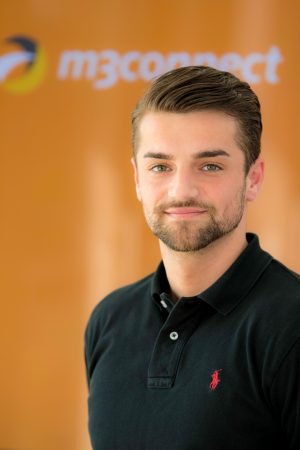 At m3connect, I work in event management and technical sales. Amongst other things, I am responsible for conferences and trainings of new and old clients. That means I am in touch with our clients on a day-to-day basis, mostly at the office but also in the field. I enjoy working at m3connect, because I can work flexibly and focus on finding solutions, in an environment where I can work on exciting challenges. Also, I can work independently and creatively in a wide range of areas.
Avdo